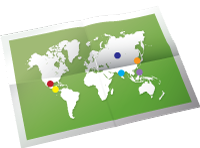 State-Level Unauthorized Population and Eligible-to-Naturalize Estimates
Due to scheduled maintenance 11/25 and 11/26, portions of this site may be unavailable, most likely Sunday morning.
Step 1. CHOOSE A GEOGRAPHY (National estimates are shown when no area is selected)
Select a state or multiple states on the map below. Then scroll down the page.
Step 2. CHOOSE A POPULATION (Click one of the population types below)